What is it effective for?
Treat many ailments such as common cold and fever; as a diuretic, laxative, liver tonic, refrigerant, stomachic, restorative, alterative, antipyretic, anti-inflammatory, hair tonic; to prevent peptic ulcer and dyspepsia, and as a digestive
Benefits highlighted by several research and scientific journal
What is Emblica officinalis
Emblica officinalis Gaertn. or Phyllanthus emblica Linn, commonly known as Indian gooseberry or amla, is arguably the most important medicinal plant in the Indian traditional system of medicine, the Ayurveda. Various parts of the plant are used to treat a range of diseases, but the most important is the fruit.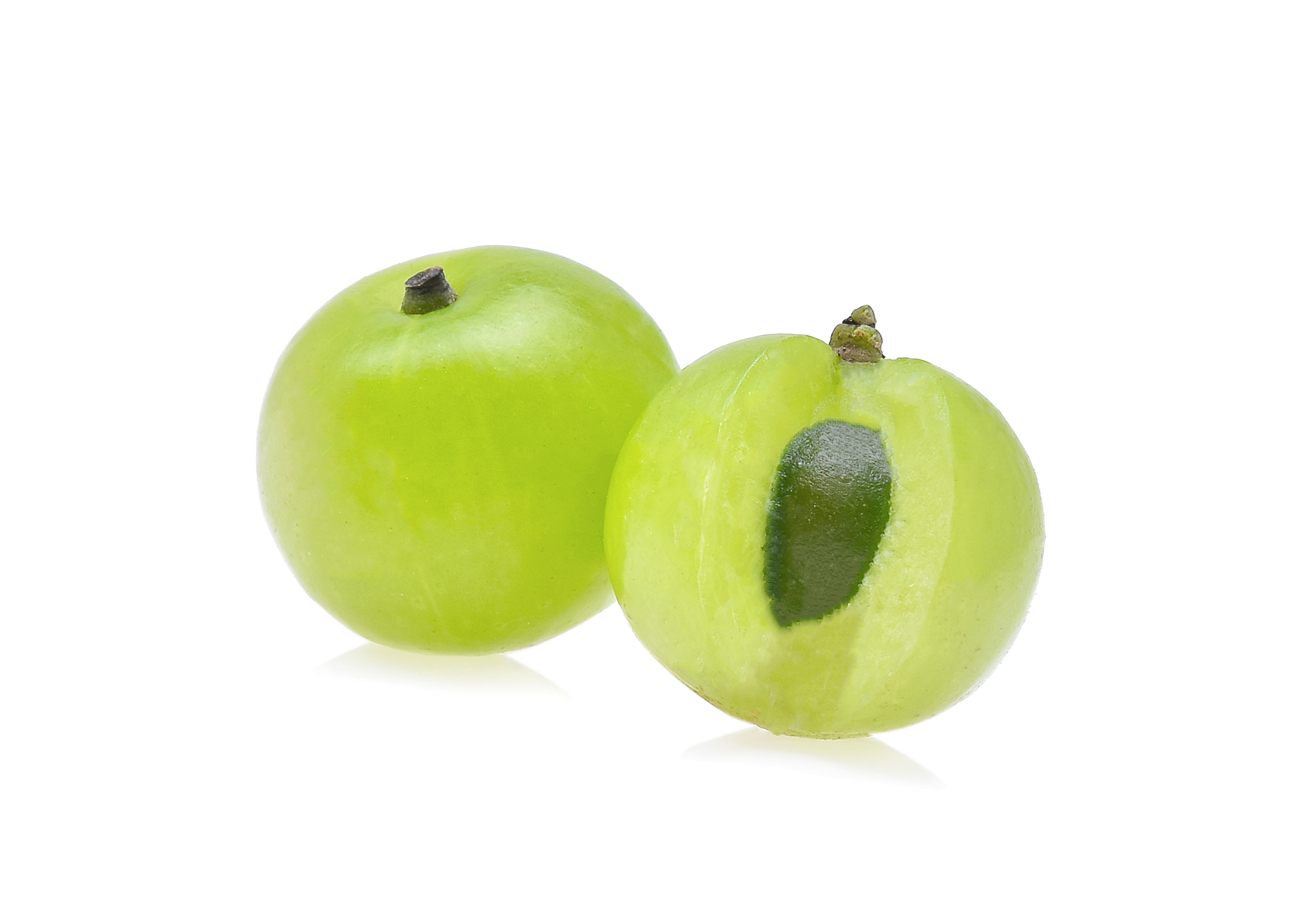 Emblica officinalis in Detail
Ascorbic Acid,Phenols, Ellagic Acid, Gallic Acid, Quercetin, Kaempferol, Corilagin, Geraniin, Furosin, Gallotanins, Emblicanins, Flavonoids, Glycosides, and Proanthocyanidins
Anti-inflammatory,
Antioxidant,
Antimutagenic,
Immunomodulatory Activities,
Antidiabetic,
Antipyretic,
Analgesic,
Antitussive,
Antiatherogenic,
Adaptogenic,
Cardioprotective,
Gastroprotective,
Antianemia,
Anti Hypercholesterolemia,
Wound Healing,
Antidiarrheal,
Antiatherosclerotic,
Hepatoprotective,
Nephroprotective,
Neuroprotective Properties
Pakistan, Uzbekistan, Sri Lanka, Southeast Asia, China, and Malaysia
Peer Review Journal Reference
1. Baliga MS, Dsouza JJ. Amla (Emblica officinalis Gaertn), a wonder berry in the treatment and prevention of cancer. Eur J Cancer Prev. 2011 May;20(3):225-39. doi: 10.1097/CEJ.0b013e32834473f4. PMID: 21317655.
2. Nisha P, Singhal RS, Pandit AB. A study on degradation kinetics of ascorbic acid in amla (Phyllanthus emblica L.) during cooking. Int J Food Sci Nutr. 2004;55(5):415-422.15545050
3. Zhang YJ, Abe T, Tanaka T, Yang CR, Kouno I. Phyllanemblinins A-F, new ellagitannins from Phyllanthus emblica. J Nat Prod. 2001;64(12):1527-1532.11754604
4. Kumaran A, Karunakaran RJ. Nitric oxide radical scavenging active components from Phyllanthus emblica L. Plant Foods Hum Nutr. 2006;61(1):1-5.16688481
5. Zhang YJ, Nagao T, Tanaka T, Yang CR, Okabe H, Kouno I. Antiproliferative activity of the main constituents from Phyllanthus emblica. Biol Pharm Bull. 2004;27(2):251-255.14758047
6. Bajpai M, Pande A, Tewari SK, Prakash D. Phenolic contents and antioxidant activity of some food and medicinal plants. Int J Food Sci Nutr. 2005;56(4):287-291.16096138
7. Bhattacharya SK, Bhattacharya A, Sairam K, Ghosal S. Effect of bioactive tannoid principles of Emblica officinalis on ischemia-reperfusion-induced oxidative stress in rat heart. Phytomedicine. 2002;9(2):171-174.11995952
8. Anila L, Vijayalakshmi NR. Flavonoids from Emblica officinalis and Mangifera indica-effectiveness for dyslipidemia. J Ethnopharmacol. 2002;79(1):81-87.11744299
9. Nicolis E, Lampronti I, Dechecchi MC, et al. Pyrogallol, an active compound from the medicinal plant Emblica officinalis, regulates expression of pro-inflammatory genes in bronchial epithelial cells. Int Immunopharmacol. 2008;8(12):1672-1680.18760383
10. D'souza JJ, D'souza PP, Fazal F, Kumar A, Bhat HP, Baliga MS. Anti-diabetic effects of the Indian indigenous fruit Emblica officinalis Gaertn: active constituents and modes of action. Food Funct. 2014 Apr;5(4):635-44. doi: 10.1039/c3fo60366k. PMID: 24577384.
11. Manjeshwar Shrinath Baliga, Arnadi Ramachandrayya Shivashankara, K.R. Thilakchand, M.P. Baliga-Rao, Princy Louis Palatty, Thomas George, Suresh Rao,Chapter 16 - Hepatoprotective Effects of the Indian Gooseberry (Emblica officinalis Gaertn): A Revisit,Editor(s): Ronald Ross Watson, Victor R. Preedy,
12. Dietary Interventions in Liver Disease,Academic Press,2019,Pages 193-201,ISBN 9780128144664,
Thirteen Natural Ingredients. One Ultimate Formula.
Our product was developed to protect your health. Now discover what we can do for you