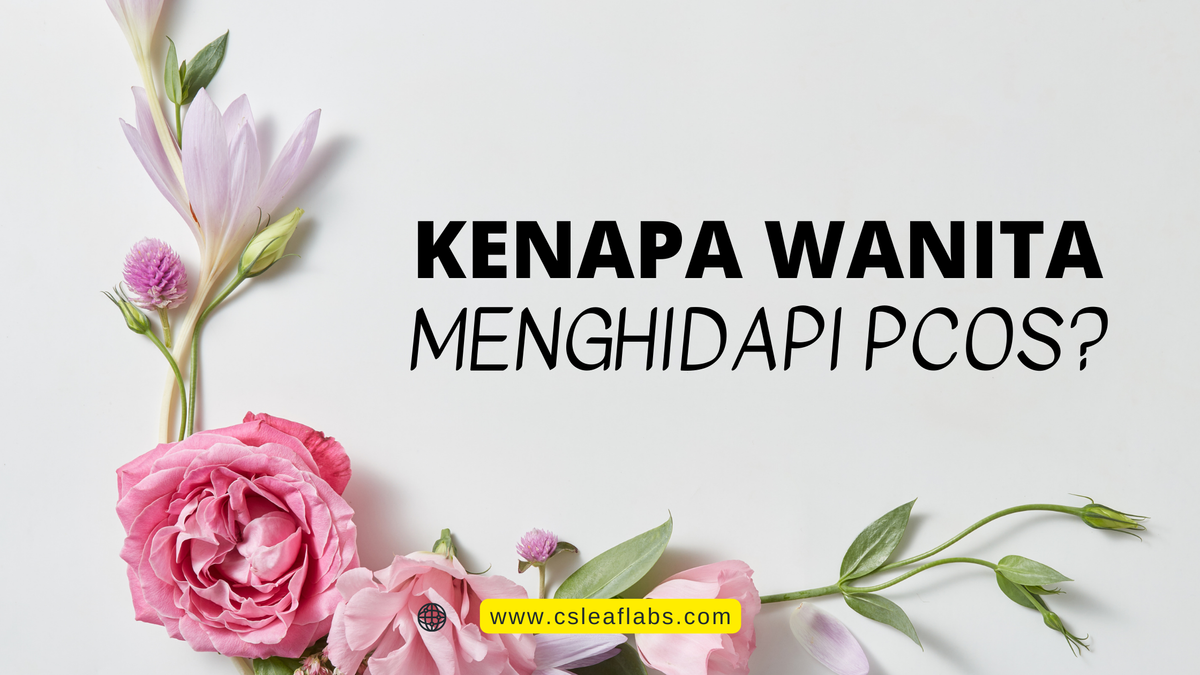 Banyak kajian masih lagi dijalankan untuk mencari tahu bagaimana wanita boleh mempunyai Polycystic Ovary Syndrom (PCOS). Tetapi untuk masa ini ada tiga faktor yang boleh meningkatkan risiko untuk wanita mempunyai PCOS.
Pertama adalalah genetik
Kedua endocrine development
Ketiga faktor persekitaran.
Apabila penyelidik memeriksa keluarga wanita dengan PCOS, mereka mendapati bahawa kedua-dua saudara lelaki dan wanita lebih berkemungkinan mempunyai sindrom metabolik, rintangan insulin, tekanan darah tinggi, dan kolesterol tinggi. Ini menunjukkan bahawa mungkin terdapat hubungan genetik keluarga yang terlibat dengan perkembangan PCOS.(1)
Penyelidikan juga telah menunjukkan bahawa wanita yang terdedah dengan bahan kimia yang boleh memberi gangguan kepada endokrin seperti racun perosak, phthalates dan Bisphenol A (BPA) semasa masih di dalam janin atau pada peringkat awal kanak-kanak boleh memberi kesan kepada perkembangan paksi hipotalamus-pituitari-ovari wanita iaitu dimana cara otak wanita berhubung dengan ovari.(2)
Hal ini boleh menyebabkan masalah dengan proses ovulasi dan meningkatkan penghasilan hormon androgen, yang boleh menyebabkan simptop PCOS.
Peningkatan hormon stress dan diet yang kronik pada tahun-tahun sebelum dan semasa akil baligh juga telah dikaitkan dengan peningkatan risiko PCOS di kemudian hari! (3)
Akhir sekali, terdapat beberapa faktor persekitaran yang boleh mempercepatkan atau "mengaktifkan" perkembangan PCOS seseorang wanita itu. Ini termasuk rintangan insulin, keradangan, dan hormon stress.(4)
Bagi sesetengah wanita, mengambil pil perancang juga boleh mencetuskan simptop PCOS buat sementara waktu apabila berhenti akibat lonjakan dalam hormon androgen.
Setiap wanita dilahirkan dengan kebarangkalian akan mempunyai masalah PCOS, dan disebabkan faktor persekitaran dan juga gaya hidup yang tidak sihat akan mengaktifkan genetik dan menyumbang kepada simtop PCOS.
Sememangnya, tidak boleh untuk mengubah faktor genetik atau apa yang terjadi semasa di usia bayi, tetapi masih boleh membuat perubahan dari segi persekitaran dengan mengubah gaya hidup untuk mengawal simtop PCOS.
Rujukan
Yilmaz B, Vellanki P, Ata B, Yildiz BO. Metabolic syndrome, hypertension, and hyperlipidemia in mothers, fathers, sisters, and brothers of women with polycystic ovary syndrome: a systematic review and meta-analysis. Fertil Steril. 2018;109(2):356-364.e32.
Palioura E, Diamanti-Kandarakis E. Polycystic ovary syndrome (PCOS) and endocrine disrupting chemicals (EDCs). Rev Endocr Metab Disord. 2015;16(4):365-371.
Steegers-Theunissen RPM, Wiegel RE, Jansen PW, Laven JSE, Sinclair KD. Polycystic Ovary Syndrome: A Brain Disorder Characterized by Eating Problems Originating during Puberty and Adolescence. Int J Mol Sci.2020;21(21):8211.
Dapas M, Lin FTJ, Nadkarni GN, et al. Distinct subtypes of polycystic ovary syndrome with novel genetic associations: An unsupervised, phenotypic clustering analysis. PLoS Med. 2020;17(6):e1003132.